Creamy no-churn Kiwifruit Ice Cream
400mL thickened cream

1 egg and 2 extra yolks

1/3 cup caster sugar

500mL Eastcoast Jive kiwi & peach smoothie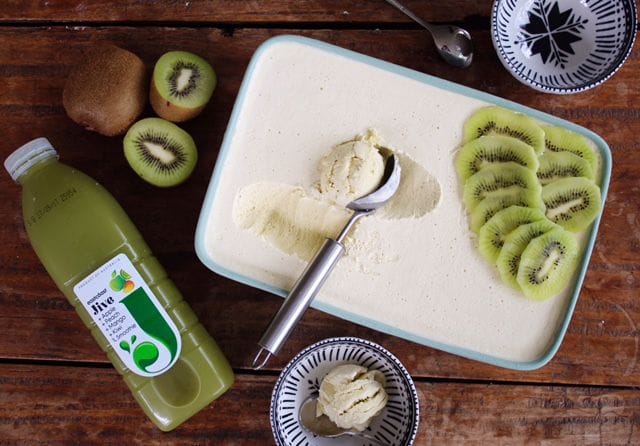 Place the thickened cream into a large mixing bowl. Using an electric beater, whisk the cream until soft peaks form.
Prepare a double boiler by filling a medium saucepan with 2cm of water. Place a heatproof bowl on top of the saucepan, ensuring that the bottom of the bowl is not touching the water.

Place the double boiler over very low heat, and add the egg, yolks, and sugar to the heatproof bowl. Using an electric beater, whisk for 5-10 minutes, or until mixture becomes very thick.

Remove from heat and set aside to cool for 15 minutes.
Gently fold the kiwi & peach smoothie into the egg mixture. Add half of the egg mixture to the whipped cream, and gently fold to combine. Fold through the remaining egg mixture, before pouring into a freezer container. Place in the freezer for 4 hours to set.
Remove from the freezer 15 minutes prior to serving.
Serves 6-8.